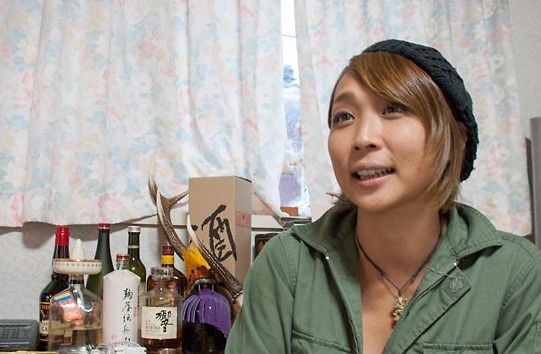 日本語の寄稿記事はこちら
Takahama town is located in westernmost point of Fukui prefecture which set nuclear power generation. Population is about 10,000 people that is decreasing every year. In addition, rate of old people (rate of 65 over age people of all population) is increasing about 1% every year reached 29.4% at October 2014, nearly 30% of population. With this situation, aging hunters, whose purpose are to exterminate harmful animals, is the big problem in this town. We interviewed Chiaki Kodama who got hunter license in 2014 and be elected to the youngest town councilor age of 26 in this year's town council elections.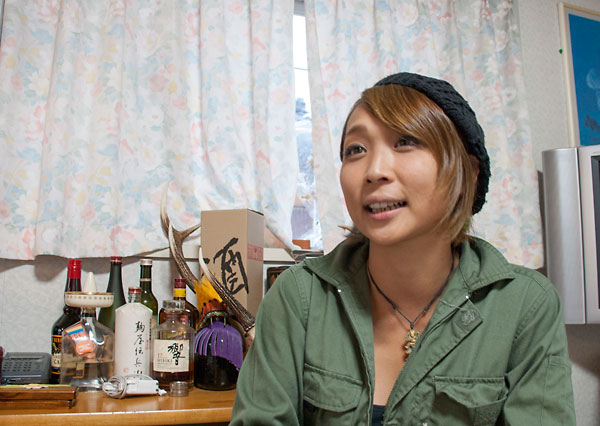 Kodama (26) runs a beauty salon, besides works as a hunter and the town council. Even though she drinks a few times a year, many bottles of sake are displayed which were surplus of some events. Her mottainai spirits must be earned from hunting experience.
I really love Takahama town's nature.

Niki
I guess it's really rare situation 20s lady works as a hunter and the town council. This is first question for you but why did you think to be a hunter?
Kodama
From the beginning I was longed to be a hunter and have thought to help local citizens and farmers. I also grow crops that were sometimes ruined by harmful animals. Wildlife damage costs is nearly one hundred million yen in Fukui prefecture only and I heard aging hunters are also big problem. And more than anything, I really love Takahama town's nature.
Niki
For sure, you looks more lively in Takahama town than we met in Tokyo. Your cloth looks like easy to move in the mountain.
Kodama
Definitely. I feel anxiety when I leave Takahama town, what if something accidents are happening, like that. Well, it doesn't mean I can help anything to them, haha.
Niki
I can admit strong local patriotism from you. At the same time, you also have role to inform hunter's culture and to increase the number of young hunters as a "hunter girl", don't you?
Kodama
Yes, getting hunting license payed attention to media which gave me advices to take full advantage of the chance to win town council elections.
Niki
Did you get any endorsement from others as a candidate?
Kodama
I'm not sure it can be called endorsement, but when I talked with my big brother and young 20s friends with acquaintance as the central figure that we need to do something about this town. We became depressed and fall silent then talking who will do that. I said I will become the town councilor at that time with the condition that I will take care of only younger generation if I became the town councilor which means not to scramble for concessions with our generation but to become a stepping-stone for next generation. That's how I became the candidate.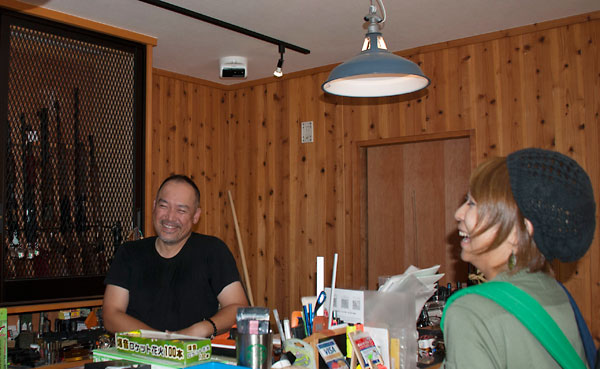 There are few 20s lady having a chat at gun shop as her daily life.
Election headquarters was almost made up of 20s members, but she was also supported by elders.

Niki
Ms. Kodama, you are 4th in candidates of 15, the numbers of votes' difference between the top is just 21 votes. This result impressed you stand out as a new councilor. Did you fight actual election with your 20s friends?
Kodama
Election headquarters was almost made up of 20s members who don't have any interest in politics fields. They don't have any knowledge of politics and election except my big brother and two his friends who had experience to help election. Some of them have no experience to vote. Almost members, include me, don't know the name of councilors and vice mayor of the town in present post.
Niki
What were your specific activities?
Kodama
My big brother, his friend and I were main members who tell young citizens that there was no young council from 20s to 40s and this situation will cause serious situation.
Niki
Which means Ms. Kodama got vote from young generations mainly?
Kodama
In fact, not even so. I also got many supports from elders. That was impressing to me, I was apologized by local old woman during election campaign. She said "I am really sorry for you to be had a hard time."
Niki
That's really impressing. Young persons' challenge to make a change may be moved elder person's mind.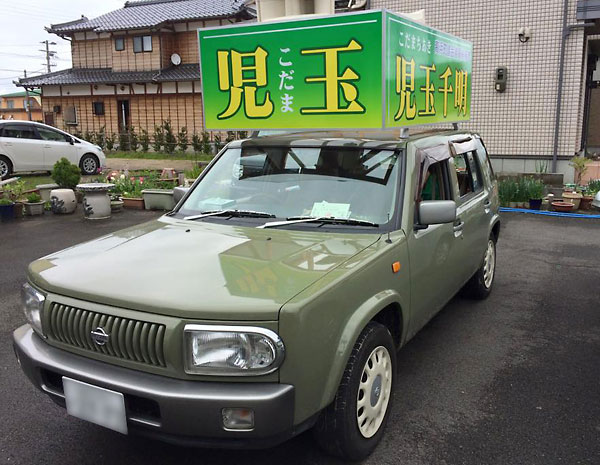 She arranged her everyday use car as an election campaign her that shows us her frank, austere style.
I want to be told that "Hey, Kodama Chiaki dropped a bombshell!"

Niki
Next, I would like to ask about after days you became the councilor. Do you have any challenging activities in your town council?
Kodama
I think Takahama town must proceed information disclosure to change town council to be familiar for the townspeople. Only plenary sessions are televised as filmed TV broadcast on cable TV, but sessions must be televised in real time on USTREAM. In addition, I hope citizens come to visit all the member conference freely. From the rule point of view, the reason why no one visits conference even though anyone can visits conference is there is no seats for the public. I think that's strange so at first I asked chairman to set seats for the public. Other councilors looks like I said troublesome problem so I understand they don't want to be checked conferences, haha.
Niki
Is it going well?
Kodama
Though casting vote can use to approve this content, the decision was prolonged because other councilors decided that we need unanimous vote from council operation committee. But, recently same opinion was suggested by the townspeople at the town meeting called "Let's talk with councilors meeting", so now they are supposed to accept that.
Niki
I really hope so. What do you think about your attitude to council form now?
Kodama
I would like to return council and politics to be familiar to the townspeople. Especially, council need some specific topics and methods to attract people's interest. I always tell my young friends to have some interest in politics, don't be indifference, or you'll be in trouble. I hope many citizens come to visit council saying that "Hey, Kodama Chiaki dropped a bombshell!".
Niki
It must be great town council will be daily topic for citizens.
Kodama
Strictly speaking, national government must be controlled by a citizen of Japan, Prefectural government must be controlled by a citizen of a prefecture, and town government must be controlled by a citizen of a town. Some of councilors have some misunderstanding when they got councilor's budge. They became councilors because of their greatness in their hearts. As a first step, I would like to change the value councilors are high positions.
Niki
Absolutely.
Handmade events by young people without government dependent

Niki
As a next topic, could you tell me about your local activities outside town council?
Kodama
I'm not sure that can be called local activities, but as you can see, there are few entertainment for young people in this town, so we hold all Japan music event from 2012 gathering our pocket money.
Niki
Is that event operated by only young people?
Kodama
Main members are 20s and 30s. Members decide not to use any subsidy and not to depend on government. They don't reluctant to use their pocket money to create exiting events, they said.
Niki
I see. Town revitalization cases squeezing subsidy are too frequent to enumerate. Not to do so, I recognized strong will to create exiting events by themselves.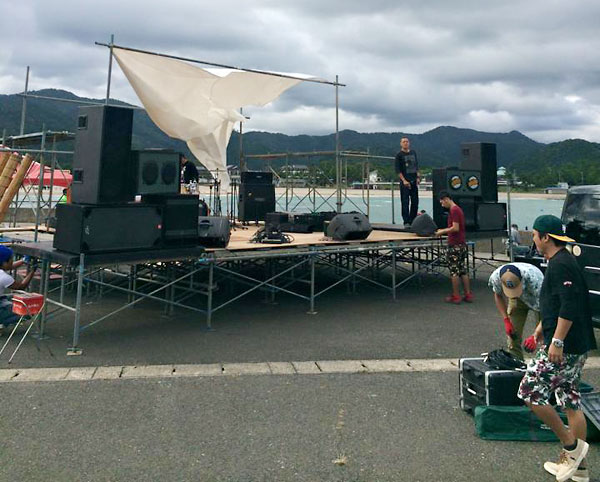 Young people have enthusiasm to realize what they want by themselves.
I want to tell the importance of "act"

Niki
Last question. What do you want to tell through your activities as a hunter, town councilor, and events operated by young people?
Kodama
Well, this must be our town's character, similarly my candidacy case. We talk very active when we discuss what we will do. We also come up with good ideas, but we become silent when we decide who will do these ideas. Nobody do anything and make some excuses. Not to take a passive attitude saying that "somebody may do it somedays", but realizing what we want to do by ourselves. I want to change "someday" into "now" and "someone" into "myself".
Niki
That must be the same problem not only Takahama town but also all over Japan and any kind of organizations.
Kodama
Everyone behave like critics. I want to change that and I also want to change myself. I think I am really helpless human but I want to tell everyone you can do it because I can do many things regardless of my helpless. It's OK what you want to do like politics, hunting, and music for me. Many youth generations work their jobs with their complaints and dissatisfaction but they should do what they like, I think.
Niki
You mean, be active before complaining?
Kodama
That's right. For example, if there were 100 young people who have worked as councilors though only one term, the town would change.
Niki
That's true, that means there are 100 young people loving their town. I feel like I develop hope today. Thank you for taking the time to interview with me.
Kodama
Thank you very much!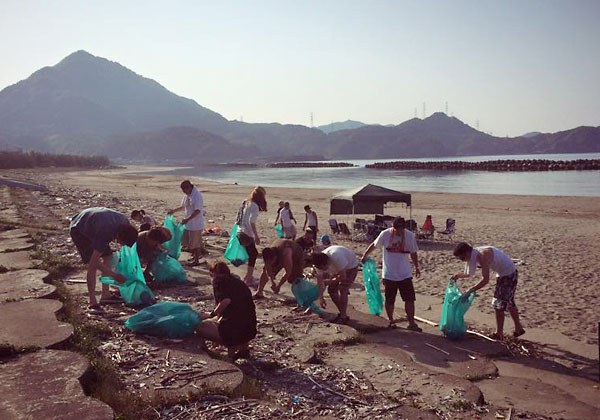 Young people will keep looking forward to create the future praiseworthy, even though they have to pay for past cost.
---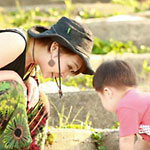 ○KODAMA, Chiaki(Councilor of Takahama Town)
Born in November 1988 in Fukui Prefecture. Graduated from BELeBEL Hair Fashion College. Besides run a beauty shop, she got 1st grade hunting license and animal trapping license to be a hunter. In 2015, she got 564 votes at Takahama town council election and be elected for the first time. She was the youngest town councilor ever at that time. Unmarried, looking for a boyfriend!


○NIKI, Takatsugu (General Incorporated Association Youth Democracy Promotion Agency Representative Director)
Born in October 1986 in Nara Prefecture. Graduated from Digital Hollywood University, Graduate School, earning the degree of Digital Contents Management. Graduated from JGSDF Youth Technical School, worked for a venture business, and established KARYOKU SHIEN Inc. in 2010. Supported more than 100 election campaigns in total by its logistical support business for public sector utilizing design and ICT. In 2015, founded General Incorporated Association Youth Democracy Promotion Agency in order to realize politics for the youth and future generations and serving as the Representative Director.
---
Translation by TAMAGAWA, Katsuhiro
▶ ONLY ONE IN JAPAN!? GROUP OF TWO CONSIST OF OUTSIDERS IN THEIER 20S CHALLENGES THE ASSEMBLY